Need a Sunday School Lesson for Father's Day?
Teaching Sunday School on Father's Day can be a bit overwhelming. It feels like a lot of pressure to teach about dads when your class may have students coming from single mom homes or the dads who don't atttend church with the kids.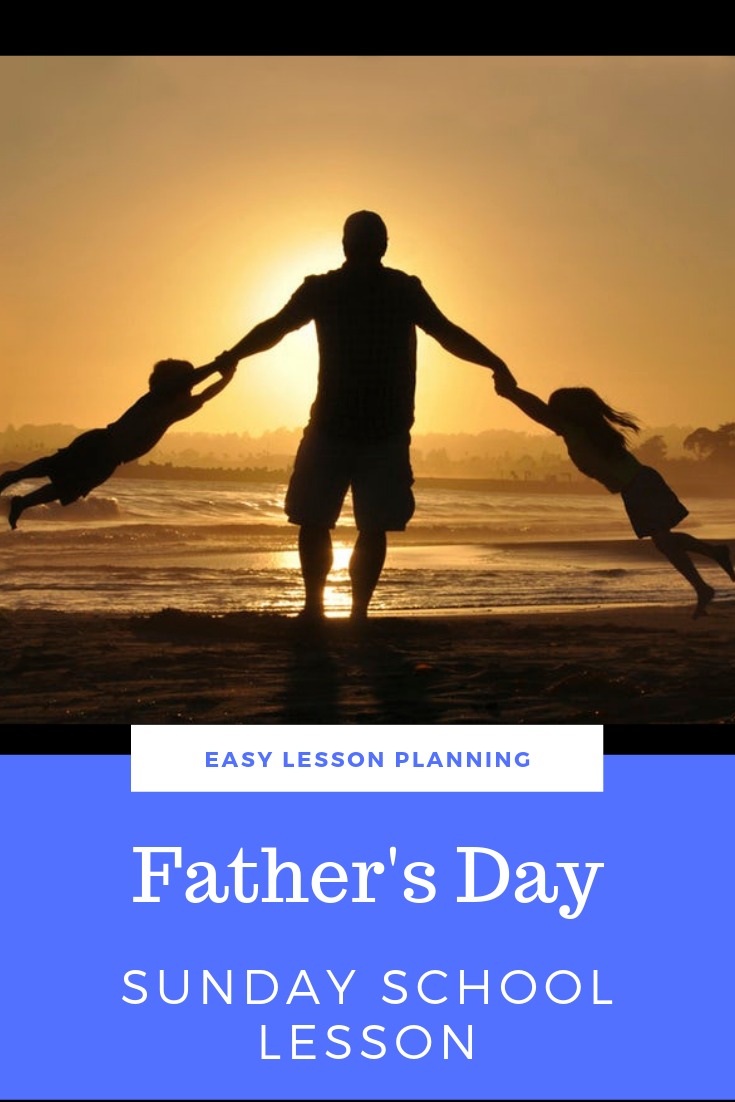 How do you tell kids that God is a wonderful Father and loves them when these kids associate the word "father" with someone who they don't know or feel abandoned by? You don't want the kids to walk away from a Father's Day lesson feeling like their earthly dad is anything like their Heavenly Father (even if they have amazing fathers!)
God is our PERFECT father in Heaven and loves us in an amazing and unconditional way, and this lesson will help teach your kids about their perfect Father in Heaven.
Even better? This Father's Day Sunday School Lesson is print and go! Download and you are ready to teach!
What's in this Father's Day Sunday School Lesson?
Print and Go: Everything you need for a fun, engaging Bible Lesson on Father's Day
This Father's Day Lesson teaches kids that God is our perfect Father in Heaven. He made us and He loves us perfectly.
Lesson (Pages 2-4)
Students will talk about ways fathers are different and what makes a good dad. They will examine various dads from the Bible and identify good examples of things they did and some of the mistakes they made. Our earthly dads will make mistakes but we have a father in Heaven in who loves us perfectly. Students will look at verses that enforce that God is our Father in Heaven who loves us perfectly and wants what is best for us.
Referenced Bible Verses (Pages 6-7)

Depending on the age of your kids or their Bible navigation skills, looking up the Bible verses may turn out to be too cumbersome and distract from the lesson. I have included them here, so you can cut them into strips and have volunteers read them out loud. Children will look up verses about Noah, Isaac, David, Job, and others.
Optional Activities
Activity #1 – Create a Funny Father Face

Give each child one face outline placed inside a sheet protector. Each child is given a dry erase marker and a die. The kids will draw a face based on the number that they roll on the die. For example, on the first roll a child rolls a 5. The child finds the die that has 5 dots on it and then draws the matching eyes on the face. If they roll a 2 for the second turn, they will draw a nose that matches the nose for a 2. Children can erase the drawings and do several times if you use the clear sheet protectors.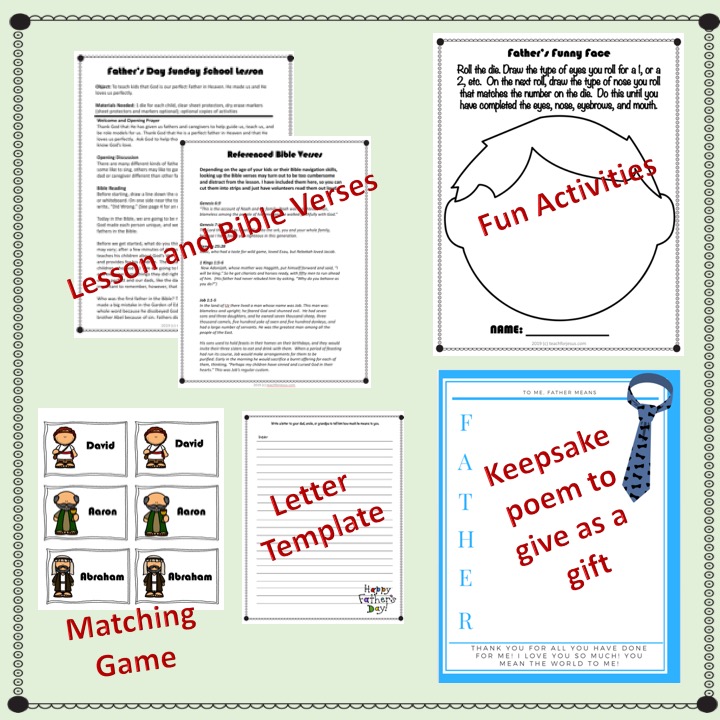 Activity #2 – Acrostic Poem
Kids will fill out a FATHER poem. This is an acrostic poem so kids name something they like about their dad that starts with the letter F, the letter A, etc. Glue onto a slightly larger piece of construction paper and you can give it to the fathers as a gift. Here is an example:
What Father Means to Me:
F – Fantastic Tickler
A – Awesome Tucker-Inner
T – Terrific Cook
H – Helps Me
E – Excellent Storyteller
R – Really Loves Me
Activity #3 – Letter
Kids will write a letter to their dad (or uncle or grandpa) telling them how much they mean to them.
Activity #4 – Fathers of the Bible Matching Game
Print off the "Fathers of the Bible" card matching game. For best results, print on card stock. Trim the cards. Kids will play in pairs. They will turn the cards upside down and take turns trying to find the matches.
Happy Father's Day!
Other ideas for Father's Day and Mother's Day:
Mother's Day Activities and Gift Bundle
Mother's Day Craft Gift | Mother's Day Puzzle Card
Father's Day Card | Easy Father's Day Gift Idea