Help your elemetary aged kids learn and understand the story of Daniel and the Lions' Den with this fun Sunday School Lesson.
Sign up for a FREE Daniel and the Lions' Sunday School Lesson!
Daniel and the lions' den is one of the most treasured stories in the Bible. From this lesson, children will learn that God is trustworthy and protects his people. Daniel never wavered in his faith in God, and he flourished because of his faith.
The King's other advisors were very jealous of Daniel and sought a way to have him removed from his high position in the king's court. When they could find no wrong in anything Daniel did, they convinced the king to create a new law stating that the King was the only person or thing that could be worshipped and prayed to for 30 days.
When commanded to bow down in worship to King Darius, Daniel refused. When the advisors found Daniel praying to his God, they immediately told the king. The king had no choice but to throw Daniel into the lions' den. (During this time, a law signed by the king could not be repealed so even though Darius did not want to throw Daniel in the lions' den, he had to comply with his own law.)
The next morning when Darius found Daniel alive in the lions' den, he was overjoyed. He declared that Daniel's God was the living God and should be feared and worshipped. The wicked advisors and their families were then thrown into the lions' den. Read the full story in Daniel 6.
Application
There are so many lessons to be taught in this story: God, and God alone, is worthy of our worship, prayer matters, God is trustworthy, God protects his people, the list goes on and on! I hope you find that these materials will help you teach this awesome lesson about Daniel.
Daniel and the Lions' Den Lesson Sunday School Lesson
Teaching Outline for Suggested Lesson
Question Sheet
Why did the king's advisors dislike Daniel?
Why did Daniel refuse to stop praying?
How did the king feel when he realized Daniel would be thrown in the lions' den?
What happened to the advisors after Daniel was saved from the lions? What lesson do you learn from their example?
Daniel Prays Activity Sheet
Kids look at various times Daniel prayed and examine what he prayed for
Kids apply this lesson by reflecting on how they could be more like Daniel in their prayer life and answer a question about why God wants us to pray
Draw the Story Activity Sheet
Kids will draw the story of Daniel and the Lions' Den
How Did It Happen? Activity Sheet
Students will number the sequence of events in the order that they happened in the story. (Answer sheet is included.)
Fun and Easy Group Game: Lion, King, Or Daniel
Memory Verse Challenge
Verse from Daniel 6:23b
"So Daniel was taken up out of the den, and no kind of harm was found on him, because he had trusted in his God." Daniel 6:23b, ESV
Draw a Lion Grid Challenge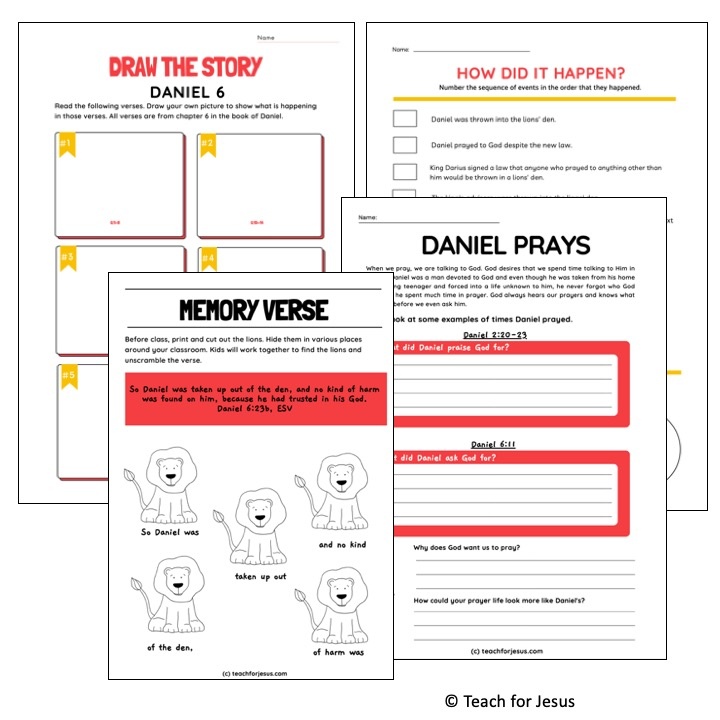 Get this lesson free when you sign up below!
Looking for more great lessons?
Check out the Queen Esther Sunday School Lesson and How to Find Bible Verses.