10 Easy Preschool Lessons
Looking for some simple lessons for your preschool Sunday School class? How about some easy Bible lessons for a Mothers of Preschoolers (MOPS) group? These preschool Sunday school lesson plans were designed to be used by anyone watching a a group of young kids.
Each preschool Bible lesson includes a Bible verse to memorize, a suggested story to read from the Bible or to retell in your own words, questions to ask at story time, 2-3 activities to reinforce the lesson, and a craft idea. The lessons can easily be adapted to fit a one or two hour schedule. (I've included a suggested timeline for both).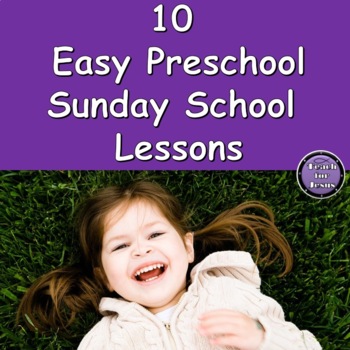 Lessons are from mostly from the Old Testament and include:
1. God Made the World
2. Tower of Babel
3. Noah's Ark
4. Joseph and His Brothers
5. Moses
6. Jonah
7. Esther
8. Naaman
9. Samson
10. I am Special
*****Special Bonus Lesson Included – Jesus is God's Son*****
These preschool Sunday school lesson plans are simple but memorable. Some crafts require items like coffee filters, rocks, markers, scissors, stickers, or glue. Don't have time to gather those supplies? Just skip those activities. There are multiple options per lesson plan. You will need to be able to read the Bible story from a Bible, kids' book, or retell it in your own words for each lesson. Other than that, most of the prep work for you class is done here.
Be sure to check out the preview before purchasing this packet.
This product includes lesson plans for 2-3 months of Sunday school lessons.
Welcome and Pray
As kids come in, welcome them by name and ask them to sit in a circle or play as you wait for other kids to join you. After most kids have arrived, gather them in a circle and say a prayer.
Song Time
Sing a favorite Christian song or two with the kids. Examples could be Jesus Loves You, Trust and Obey, The B-I-B-L-E, This Little Light of Mine, or I've Got the Joy, Joy, Joy, Down in My Heart.
Bible Verse and Story Time
Have the kids say the following verse several times. Have them repeat it after you in various ways. Say it slow, say it fast, say it loud, say it while clapping, etc.
"God saw everything He had made. And it was very good." Genesis 1:31
Retell the story of creation from a children's story book or from your own words.
Questions to Ask At Story Time
Who made the world? Who made the mountains? Who made the flowers? Who made the fish? Were the things God made good or bad? How many days did it take God to make the world?
Activity #1
Name different animals and see if the children can make the sound each animal makes. "God made lots of animals. God made cats. What sound does a cat/dog/lamb/elephant/etc. make?"
Activity #2
Gather small rocks for the children to paint. God made the whole world and everything we can see, including the rocks. Kids may want to leave the rocks in fun places for others to find after they have dried.
Activity #3
Have the children stand in a circle. Name an animal and have the children walk around in a circle pretending to be that animal. For example, they quack like a duck and flap their wings, they stomp around like elephants, or they waddle like penguins.
Craft – Coffee Filter Flowers
Color coffee filters with markers or crayons. Write, or help the child write, his/her name on the back.
Get a free ABC activity for Preschoolers.