New Years Activity for Kids – Parts of Speech Review Game
Fun Way to Review Parts of Speech for New Years (like mad libs)
Your kids will be (insert verb) with laughter!
New Year's Day is often a great time to set goals and make resolutions. This New Year's Goals Fill in the Blanks game will get your kids laughing as they fill-in-the blanks with words for the appropriate parts of speech for their upcoming goals.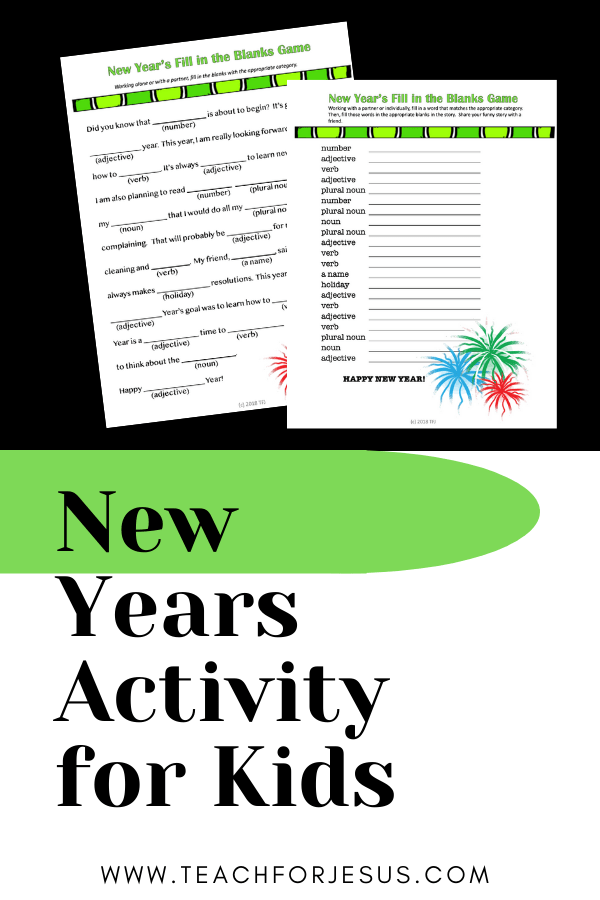 This is a great way to review the parts of speech with your students. And a fun way to start the New Year!
How do you play?
It's best to play this game in pairs. One person asks his/her partner to name something in the appropriate category. That person writes down what the other person says in the appropriate blank.
When they are finished, they read the story out loud to their friend. Take turns and switch roles so each person gets a chance to be in each role and practice their parts of speech.
Enjoy and Happy New Year!
Grab the Grammar Review Bundle and get lots of holiday games!
MORE WORD GAMES:
Spring Break Activity | Spring Break Fill in the Blanks Game
Spring Game Bundle, Buy 2 Get 2 Free
Christmas Nativity Story Silly Word Game